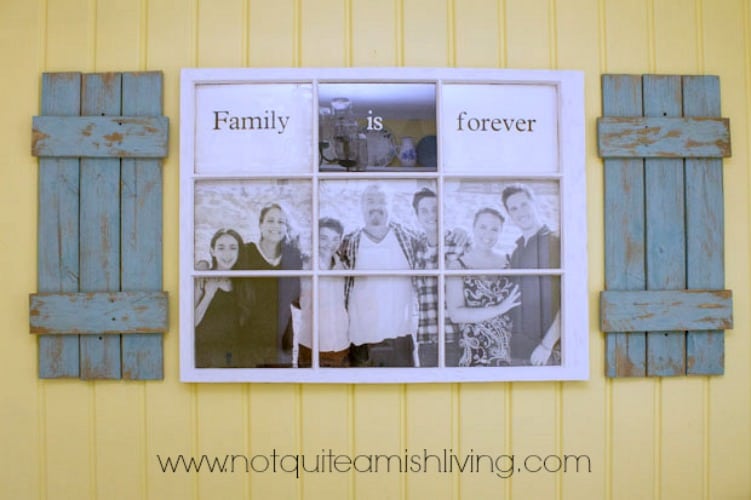 My DIY husbandand I have discovered the art of repurposing and recreating to express beauty and creativity in our home.
Last month I gave you some tips on using pallet shelves as home decor.
This month I wanted to give you some ideas for incorporating family values in the way you decorate.
Our family is built through both biology and adoption. Thirteen years ago, in 2000, we added a sibling group of three to our two birth children, giving us a van full of children! Our lives changed dramatically. The sibling group was 15 months, 2 years, and 10 years old, with our biological children 7 and 11 at the time.
We were busy and overwhelmed and totally reliant on God to guide us through each day.
We had been praying for wisdom and guidance throughout the adoption process. We didn't know how very much our lives would be challenged and changed from parenting abused, neglected, and unattached children.
Everything we held dear was put to the test, including our faith, our friendships, and our family ties.
You can read more of our story here, but our oldest adopted daughter needed help beyond what our four years with her could provide. We had tough decisions to make that would challenge the relationships we held most dear.
Throughout this journey we continued to tell our children that God has uniquely joined our family together. Regardless of the heartbreaking years, God was still sovereign in the love and grace He poured into our hearts.
We have discovered a way to encourage and strengthen this family bond through the way we choose to decorate our home.
Even though we have redone much of our home, this family gallery wall is still my very favorite.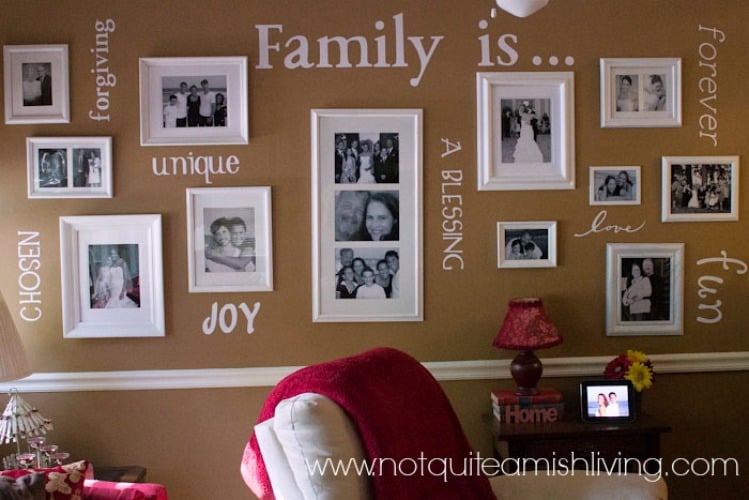 As I decided how to bring this wall together, I enlisted the help of our children in choosing words that would express what family meant to them.
Forgiving. Chosen. Unique. Joy. Fun. A blessing. Love. Forever.
Family is forever.
If you asked our children what our family motto is they would tell you it's "Friends come and go, but family is forever."
I want our home decor to be welcoming and filled with grace and those things that hold special memories for our family.
A more recent addition is the family photo frame above made from old fence boards and an old window. I enlarged one of our beach photos as a 24×36 engineering print and created the "family is forever" saying with vinyl using my Cricut diecutting machine. I love the look and the reminder as we share a meal together that we are bound together with love. <click to tweet>
As an avid scrapbooker, I love incorporating photographs into my home decor through accessories, frames, or wall groupings.
A project I haven't shared on my blog as of yet is a verse of scripture for my youngest daughter's room. Psalm 139:14, "I am fearfully and wonderfully made," covers one wall of her room as a reminder that God created her and has a plan for her life.
In what ways do you personalize your home and encourage those you share life with?