"True Thanksgiving is thanks-living." Amish proverb
Thanksgiving is underrated. It's one of those rare holidays that is generally pretty low key, hasn't been commercialized, and a day to give thanks and be grateful.
Of course, for some it's a day to watch football, eat too much, and spend time with friends and family (which you might be grateful for or not!).
What I love about this holiday is that it is an important reminder to practice gratitude every day.
All kinds of studies have found that those who have an ongoing tendency to be grateful experience better physical and psychological health and well being. They tend to be more optimistic, sociable, and engaged in life. They are less susceptible to depression, anxiety, anger, and others negative emotions that can lead to health damaging behaviors and functioning.
Being grateful is just . . . good for you.
I start my day thanking God for giving me another day and try my best to remind myself that whatever I get day-to-day is gift and blessing. I have so much to be grateful for. We all do.
It doesn't mean that there aren't problems in our lives or some situations that will never be fixed–but there is definitely something, or someone, to be grateful for every single day.
So, as we close Thanksgiving 2012, what are you grateful for? I'm grateful for you! I hope you had a wonderful Thanksgiving Day.
______________________________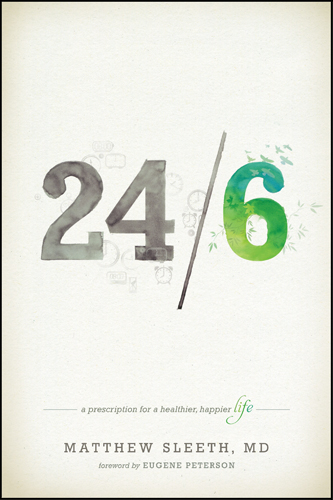 The winner of yesterday's giveaway is Penny Silver McGuire! You should have an email awaiting you in your inbox regarding the details.
Today's giveaway is Matthew Sleeth's 24/6, courtesy of Nancy Sleeth! To enter, use the Rafflecopter widget below. If you have trouble seeing the widget, try using a different browser (i.e. Chrome, Firefox, etc.). Only those in the continental U.S. are eligible to win. The winner will be announced on Monday's blog post.
PLUS, don't forget about the Pin & Win contest where you could win a media library of more than 40 books, CDs, and DVDs! More info here!